As a risk management professional, exposure recovery and follow-up are critical to customer satisfaction. Exposure can develop in many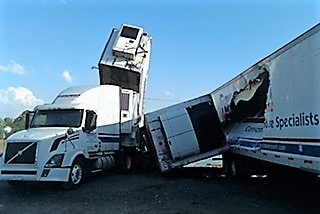 ways:
Natural and Man-Made Disasters
Hurricanes, tornados, hail, ice, snow storms and large vandalism claims can have a devastating effect on a commercial fleet. The need to perform repairs promptly to ensure a minimal disruption in delivery/production is critical.
We address these disasters using a team approach sending out an experienced senior technician who can assess the extent of the damage and coordinate part ordering, installation labor requirements, and begin the clean-up process. As other team members arrive with the necessary parts to rebuild the fleet, equipment is selected for repair based on the production demands of the customer.
Original Equipment Manufacturer
Pre-delivery and post-delivery warranty repair work is critical to customer satisfaction. We target both individual vehicle (owner/operator) and fleet owners coordinating through the dealer network to ensure that field warranty services keeps vehicle downtime to a minimum.
Repairs are addressed by a select team of experienced technicians working in conjunction with both plant and field personnel to get the repairs completed in a timely manner. Warranty paperwork and replaced part inventory are managed throughout the process to ensure proper replacement cost tracking.
Sub-Contractor/Vendor Management
We can provide a detailed review of in-house vehicle glass replacement programs. After reviewing the current vendors' installation processes, parts and services, we will provide a detailed review of the market conditions that surround individual fleet service locations. Recommendations will be made given the nature of the available service providers, wholesale glass distribution chains, and OEM fleet vehicle requirements. This is a targeted approach requiring a very high level of industry/market understanding covering hiring/employment trends, glass manufacturing and distribution philosophy, and vehicle engineering developments, while encompassing OSHA, MSHA, and DOT requirements.